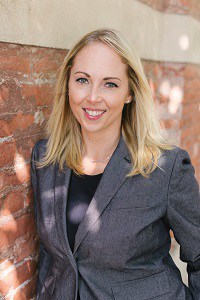 A Kentucky native, Alex attended undergraduate at Morehead State University where she graduated with honors with a degree in speech communication and government. After working for several years as a paralegal in the Jessamine County Commonwealth's Attorney Office, she attended Law School at Western Michigan University where she met her future husband and law partner, Joe.
Prior to joining Schodowski Law, Alex was a Deputy Prosecutor for Clallam County. There, she prosecuted thousands of misdemeanors before being promoted to Clallam's Felony Unit. As a felony deputy, she prosecuted sex crimes and crimes of domestic violence and received special training in Domestic Violence, Child Abuse and Neglect, and Sexual Assault and Trauma.
As a former prosecutor, Alex brings a unique approach and perspective to both personal injury and criminal defense cases. Her dedication to helping those injured in an accident or accused of a crime is matched only by her skills in the courtroom.
Outside of practicing law, Alex enjoys spending time with her husband and law partner, Joe, their daughter, Annabelle, and their two dogs, Ollie and Pippa.