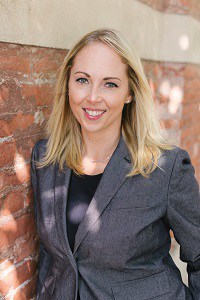 About Alex Schodowski
In the landscape of legal representation, few can match the unique insight and commitment brought to the table by Alex Schodowski. A partner at Schodowski Law Inc., PS, Alex combines her vast legal expertise with a relentless passion for justice to guide her clients through the complex world of Criminal and DUI Defense and Personal Injury Law.

Hailing from Lexington, KY, Alex's journey to the Olympic Peninsula began after her graduation from Western Michigan University – Cooley Law School in 2011. She quickly demonstrated her dedication and tenacity as a Prosecutor in Clallam County, where her work left an indelible impact on the community.
Experience as a Prosecutor
As a Prosecutor, Alex handled thousands of cases, tackling everything from DUIs to murder cases. Her rigorous approach to each case and her unwavering commitment to upholding justice made her a formidable figure in the legal landscape. Moreover, her unique exposure to a range of high-stakes cases has given her an invaluable perspective, equipping her with the necessary tools to address her clients' legal challenges effectively.

To augment her legal acumen, Alex received specialized training in domestic violence, child abuse and neglect, and sexual assault and trauma. This training further deepened her understanding of the complex nuances of these challenging issues, allowing her to advocate effectively for her clients.
Transition to Schodowski Law
In 2016, she transitioned from the prosecutor's office to Schodowski Law, bringing her extensive courtroom experience and profound legal knowledge to the firm. Now, as a partner at Schodowski Law, she uses her unique insights as a former prosecutor to provide her clients with robust, strategic, and results-driven defense.
Why Choose Alex Schodowski?
Alex Schodowski is not just your attorney; she's a partner in your legal journey. Her expertise, coupled with her in-depth understanding of the justice system, ensures that your case is handled with the utmost professionalism. Her focus is not only to secure the best possible legal outcome for you but also to ensure that you feel understood, supported, and empowered throughout the process.
Get in Touch
With Alex Schodowski on your side, you have more than just legal representation; you have a steadfast advocate dedicated to defending your rights. Contact Schodowski Law Inc., PS today to schedule a consultation with Alex, and experience the difference a dedicated legal partner can make in your case.